Digital Rate boards Money Transfer Mobile Apps and Websites
Use FinTechCrowd's digital rate board solution to showcase your offers. We provide mobile applications for end customers, agents, and websites for your organization. Check here to learn more…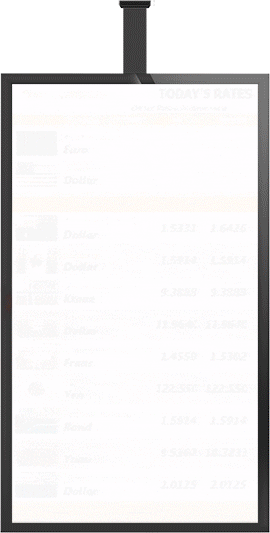 FinTech Crowd Digital Display
Digital advertising helps you get a competitive advantage over your competitors. Take your advertising efforts to a whole new level with FinTech Crowd's Digital Display. Your digital advertising efforts can provide you with an effective communication medium. If the ultimate goal of your business is to gain exposure and market to a larger audience, digital advertising will benefit your business the most.
The world dynamics are changing and with the modernization of the world, everything digital is accepted as the norm. There was a time when print media reigned over the marketing world, but that era is soon going obsolete. Digital advertising is slowly taking over and if you want to stay relevant, this is the fastest route.
Who needs this
FinTech Crowd Digital Display is a well-tailored product for all our high street clients. Use the flexible option of digital technology to deliver to your target audience. You can connect the displays to the main platform and manage centrally which saves you money and the time.
Compliance Platform & API
We understand that the nature of money exchange and transfer businesses requires some stringent regulatory measures. To make this possible and exceed the level of trust of our clients, FinTech Crowd provides a compliance engine with our money exchange and remittance platforms. You can use this as a module of the application or we can provide this as a separate platform which you can connect any other platform via an API
Our team at FinTech Crowd understands the importance of complying with FSA and EU regulations. In addition to that, we have integrated  OFAC, HM Treasury, Sweden, Norwegian and Australian sanction databases to the system.